Supermarket Responsibility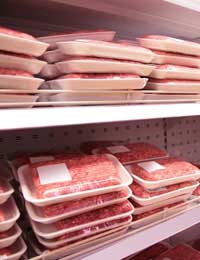 While it is fair to say that supermarkets have been blamed for a large number of issues in our declining society, so too is it fair that they have played a large part in creating the problems.
Of course, it is not the fault of the supermarkets that less than one in six Britons sit down to eat a meal at a dinner table with their family one a week, but perhaps the 'two for one' ready meals and twenty four hour openings don't help.
The Power of the Supermarket
The immense commercial and even political power that the top five UK supermarkets wield is, in some ways, unimaginable for the average consumer. Farmers and producers will have a better idea, as will local shop keepers, butchers and greengrocers.
There is a growing demand for supermarkets to take their social, ethical and environmental responsibilities more seriously, with their slick marketing departments and spokespeople no longer appeasing a more interested, conscientious food buying public.
There is a great deal that the supermarkets can do. As competitive, some say monopolising businesses, they are required to make a profit, with the voices of their stakeholders heard far louder than the voices of their customers.
However, the best way to succeed in such as environment is to play the same game - the stakeholders will soon be drowned out by the customers if their dividends drop. So, if consumers hit the supermarkets where it hurts most - their profits - they will have to take notice.
This, sadly, means that the supermarkets will not change any of their 'unsavoury' practices unless people stop spending money in their stores. It does not seem as though moral or ethical reasons are given the same floor time as pounds, shillings and pence.
The Practices of the Supermarkets
These 'unsavoury' practices are often used to convince the shopper that the products they are buying are good - the conditions of the intensively farmed chickens on sale at £1.99 are not printed on the label. Here it says 'farm fresh' and has green and brown colours, so it looks like it was delivered from Farmer Giles just that very morning, instead of the words having no legal meaning or requirement and the bird was raised in a metal pen in Hungary, no bigger than a piece of A4 paper.
The carefully chosen terms like 'farm fresh', 'farm house style' and 'home style' mean absolutely nothing, the supermarkets are very sneaky in how they describe their products, with the phrases which do have legal standards, such as 'home made' being scouted around.
The behaviour of the supermarkets in terms of their suppliers and producers are also starting to be brought out into the open now. In recent years, many producers were painfully squeezed by the supermarkets into producing ever cheaper products, or reducing their margins dramatically. A lettuce that was sold to a major supermarket for 45 pence in 1999 is now only reaching 2 pence, although the supermarket price to the customer is higher now.
Farmers are unable to sustain that and indeed over 250 farmers go out of business each week. With the increase in awareness, ethical responsibility, farm shops and farmers markets, many producers are no longer tied to selling their wares to the major supermarkets.
You might also like...