Organic Meat - Is it Better for You?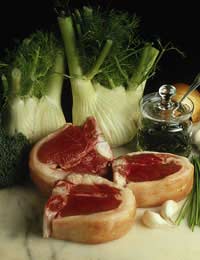 The rise in popularity of organic produce over the past few years has been incredible. Instead of being seen as the choice for cranks or people with more money than sense, now over one in four Britons chose some organic products on a regular basis and even small supermarkets have an organic section. Larger supermarkets often have whole aisles for organic produce, including meat, dairy, fruit and vegetables and dried goods.
Is Organic Better for you?
The growing numbers of consumers choosing to buy organic cite a range of reasons, with the fact that organic produce is tastier and healthier. But is it?
It may be that people feel better for buying responsibly and it is certainly true that the practices in producing organic meal, fruit and vegetables are healthier – using no chemicals for example – but there are not actually any findings that show conclusively that organic produce is healthier.
The Results May Come Later
What we may find is that the tests available now do not show that organic food is better, or that our bodies will only show the benefits of organic eating many years into the future. Let us not forget that smoking was once considered healthy, with adverts promoting its benefits. We now that is not true and quite startlingly so.
Better Production Methods - Meat
What is proven and recognised is that the methods used in organic farming are a more responsible, respectful way to farm and rear animals. Intensive farming uses the cheapest available feed, the smallest available space and the shortest available life to maximise profits.
Organic farming is far slower than that – people who own and run organic farms tend to appreciate the life of an animal more, respect their day to day conditions and ensure they are killed with respect, too. Their food is not pumped full of additives or water. So whilst there is no proven nutritional benefits to eating organic meat, it does tend to be more naturally tender, with a better texture, as the animals will have had a more stress free life.
Supporters of organic meat will often say that the meat has higher naturally occurring anti oxidants, vitamins and minerals, too, although this has not been scientifically proven.
Better Production Methods – Fruit & Vegetables
Organic fruit and vegetables are grown without the use of genetically modified ingredients, pesticides or chemicals and is often considered more tasty. While there is no proof that this is the case, 29% of Britons who buy organic products believe it to taste better, with over 60% believing it to be healthier.
What is certainly true is that by buying locally produced, organic products by joining a box scheme for example, your fruit and vegetables will certainly be fresher, have travelled far less food miles and will not have been kept in a refrigerated distribution centre for weeks before they arrive, cellophane wrapped and perfectly formed, at a supermarket near you.
So although there is not yet any scientific proof that eating organic meat or fruit and vegetables is better for you, people who eat organic say they feel better for it and are acting in a more responsible, sustainable way.
You might also like...