Meat in the Slow Cooker: Should You Seal It First?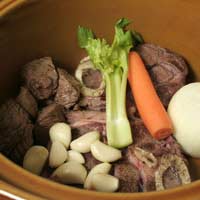 For many people that use a slow cooker, or are thinking about getting one to add to their collection of kitchen gadgets, it's all about saving time. It's far nicer to come home from work on a winter's evening and be greeted by the smell of a delicious cooked stew than have to scrabble about in the cupboards and rustle up something quickly.
However, is it really the case that the slow cooker is a time saver, or will it just end up in the utility room alongside the ice-cream maker, pasta machine and that funny doughnut cooker you were convinced would be a good addition to your kitchen?
Saving Time?
It's better to think of your slow cooker as a time redistributor than a time saver. You still have to put some time into preparing your meal, but you'll be able to leave it cooking all day and save time when you get in from work in the evening.
Therefore, you need to think in terms of spending time preparing your slow cooker meal well in advance of when you actually want to eat it. The most delicious things to cook in your slow cooker are meat-based meals using cheap cuts that benefit from long-slow cooking, such as coq au vin and Irish stew.
When to Prepare Your Ingredients?
So, the big question is, when do you prepare your ingredients to go into your slow cooker? The best way is to prep the dish before you go to bed in the evening and put the hot stock/liquid in the pot in the morning, just be careful of changes of temperature in your pot if you've stored it in the fridge overnight. Allow it time to reach room temperature while you get dressed, perhaps.
If you leave for work early in the morning, you can also prepare the ingredients before you leave and simply set the slow cooker so the dish is ready when you return, but invariably this leaves you smelling of onions and meat all day – not very nice.
So, the alternative to both these options is to simply bung everything in the slow cooker raw and hope for the best. But does it work? Pretty much every slow cooker recipe book says that you need to seal and brown your meat before adding it to your slow cooker, as well as frying off your onions, garlic and other ingredients. How much difference does it make and it is worth smelling of fried onions all day?
There is no doubt that sealed and browned meat and lightly fried onions and garlic look far more appealing. If you throw your raw meat, onions and garlic (after all, these three ingredients are the basis for pretty much all slow cooker meals) into your slow cooker without cooking first, you will not only save yourself a considerable amount of time and hassle, but you will be able to do it before you go off to work without spoiling your clean work clothes.
Appearance Difference
If you are particularly aesthetically-focused, you may find the rather insipid looking stews a little unpleasant as the slow cooker does not brown anything like the oven, frying pan or stove-top cooking does. This means your food will 'amalgamate' in the slow cooker and taste delicious, but it will essentially look rather the same when it comes out as when it went in.
Taste Difference
The taste, however, is pretty much the same whichever way you prepare. It would be a big, fat lie to say it was as good or better put in raw than when the meat, onions and garlic are fried together first in a little olive oil, giving that lovely caramel look and flavour, but it really is fine. If you're using your slow cooker for everyday family meals, then it really is not worth the smells and hassle of sealing the meat first as it requires an extra process that you probably do not have the time or inclination to complete. However, if you're making a slow cooked dish for a dinner party or special weekend meal, then it is worth it for the taste and appearance improvement.
One word of advice though – do not even try to attempt a slow cooker Bolognese or meat ragu sauce without sealing the mince first as it will be grey and springy!
You might also like...
I read that joints of meat should be 'lifted up' from the bottom of a slow cooker and sat on a bed of veg otherwise it doesn't cook evenlyHowever, no recipe had ever stated this ? Can you advise ?
Glynis
- 31-Dec-20 @ 10:41 AM
Always seal first! For flavour and appearance, that extra ten or fifteen minutes makes all the difference - why spoil superb meat without looking after it? However, I'd use butter and veggie oil mix, not olive oil;, which doesn't like being too hot, and also throw in my secret ingredient: some quince jelly, which adds wonders to the complexity of a good beef casserole.
Scally
- 23-Nov-17 @ 3:48 PM