Slow Cooking Beef and Lamb: Using Cheaper Cuts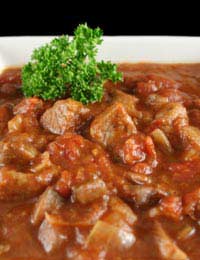 Learning to cook with the cuts of beef and lamb that are traditionally used in slow cooking can add some delicious dishes to your repertoire, as well as providing a saving on the housekeeping budget.
On any animal, you choose the cooking method that suits the cut of meat. As a rule of thumb, cuts that have more collagen and less fat are best suited to long, sustained cooking in a moist environment to provide optimum tenderness. On the plus side, these cuts also tend to have a better and more robust flavour. Slow cooking is also ideal for those who work all day and like to come home to a hearty, ready-cooked meal. Many dishes can be left for six or eight hours without compromising their flavour or nutritional qualities.
Beef Cuts For Slow Cooking
Shin and leg are generally cheap cuts of meat but they have impressive amounts of flavour
Chuck and blade are more commonly sold these days as braising steak and are often packaged sliced, or diced
Brisket comes from the underside of beef and can therefore be a little fattier than other cuts which means that it adds to the flavour of stock when cooking and is best served with an accompaniment that cuts the fat such as a tangy tomato sauce or with potato dice that will soak up the fatty taste.
Silverside is a very nice rolled joint that is ideal for braising or pot-roasting.

Lamb Cuts For Slow Cooking

Scrag end is an ugly name and the meat can be tough, but it has fantastic rich flavour and is ideal for slow cooking in stews
Neck, or middle neck, is the traditional ingredient for Lancashire hotpot when cut into slices
Boned shoulder or leg can be rolled and pot roasted or diced and used in stews or casseroles. In both cases, the meat is meltingly tender
Lamb shanks are excellent lean meat that is ideally suited for slow cooking
Chump is solid meat that is very good for dicing and slow cooking
Slow Cooking Tips
You can use a slow cooker, also called a crock pot, or a casserole in the oven. Slow cookers have two advantages: they use less energy (meaning they are cheaper) and the meat cannot dry out, even if it overcooks.
While browning beef and lamb isn't necessary, it has two advantages: it keeps the high temperature in the cooker or casserole, and it caramelises the meat juices which gives a better colour to the finished dish.
When trimming beef or lamb for slow cooking, don't remove all the fat as it contains a lot of the flavour – leave a little, as it will rise to the top of the dish during the cooking period and can be skimmed away before serving.
Don't over-season slow cooked meals. As they cook down slowly, the flavours will intensify, particularly the saltiness of a dish which can easily become overpowering – if this happens, slice a potato thickly and lay it on the top of the dish for half an hour – it will soak up a lot of the saltiness. Then add a squirt of lemon juice, which often reduces the taste of salt.
You might also like...