Barbecuing Meat: Hints and Tips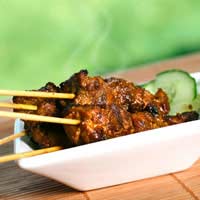 When you're choosing meat for a barbecue, you can't afford to skimp. Cooking over coals or gas is unforgiving if you have poor quality materials to start with, so this is the time to invest in the best quality cuts of meat you can.
Take Your Butcher's Advice
If you have a local butcher, consult him or her and tell him that you're planning a barbecue and what your cooking method will be: gas or coals or whatever.
Often a butcher can suggest some cuts of meat and cooking methods that you wouldn't have thought of – a tenderloin of pork, for example, when rolled with a lemon and parsley filling and sealed in tin-foil, is a fantastic barbecue dish and slices to look very impressive on the plate. But don't be tempted by any meat that's already been marinated for you – it's much better to buy meat without a marinade and make your own, as that allows you to see the quality of the meat clearly and also to choose the seasonings that will suit you best.
Allow a reasonable amount of meat per person, which should be around one sausage, one burger and a piece of steak or chicken or pork to suit your diners. You might choose to make that steak, chicken or pork into a kebab with tomato, onion and peppers especially if your budget is a bit tight. You can always offer lovely salads and breads if you can't afford a lot of meat, but don't be tempted by cheaper cuts to provide more meat, because they will be tough and tasteless in comparison to a lesser quantity but better quality of meat.
Make sure that you cook your meat properly – get the grill to the right temperature, especially for steaks.
Barbecuing Steak
If it is too hot, the outside will sear and burn before the middle is ready but if it is too cold, the meat will become tough before it is hot enough to cook properly. To cook a steak medium rare requires a temperature of 145°F which is 63°Celsius and well done steak needs 170°F or 77°Celsius – the best way to ensure you get the right temperature is to use a meat thermometer.
Remember that you need to turn, rather than pierce meat, especially steak, because if you stab the meat with a fork, all the tasty juices run out and are wasted. A good pair of tongs should be at least sixteen inches long so that you can use them without your hands hovering over the coals or gas and getting singed.
The real secret to a great steak is to let it rest for a few minutes on the plate before serving. This lets the internal juices redistribute themselves through the steak so that it is evenly juicy. Brush it with a little olive oil or melted butter to give it a lovely sheen and then lay a sprig of fresh herbs on top for a perfect finishing touch.
Barbecuing A Whole Chicken
It looks very impressive to grill a whole chicken, but all too often, the breast meat ends up dry and the legs remain pink and uncooked. This happens because chicken legs have a greater proportion of fat and connective tissue which makes them cook more slowly. Because the temptation is to cook the bird breast side up, the juices from the breast run away down the backbone and leave the meat dry. The answer is to cook the chicken upside down, or even to insert a tall, empty beer can into the cavity and stand it on the grill in that fashion, with the legs protected around the end by some tinfoil – this method allows the juices to remain in the breast while the legs are cooking over direct heat.
You might also like...