Agricultural Traditions in the UK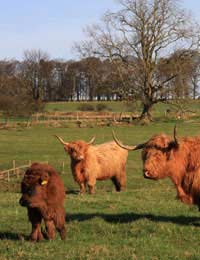 The agricultural industry in the UK has always been subject to changes in techniques, facilities and equipment. When we look back on the traditional farming methods of years gone by it can look as though the last twenty years have seen more rapid changes than any other time, due to centralised slaughter, EU directives and an influx of immigrant workers.
But if you speak to any farmer over a certain age or are lucky enough to have a grandfather who remembers such times, they will tell you that the changes in the 1920s to 1950s were really incredible.
The agricultural industry has seen a steady decline in people employed in the sector, with the different periods of history having different reasons for this.
Early Farming Methods
Prior to Victorian times, all farming work was done by hand - from the daily milking to the cutting of the wheat. Men and women would work just as hard as each other, with children often as young as eleven involved, too. Schools used to report that there was a steep reduction in pupils in school on market day, as they would be called upon to mind the cattle. People would use scythes and sickles to cut the wheat then bundle it up into neat batches to be dried and stored.
Victorian Farming Methods
During Victorian times the popularity of using horses for farming work increased, with field horses or oxen used for ploughing fields. It was said that a horse could plough in an hour what would be done in a day by hand. By the late 18th and early 19th century, the industrial revolution was changing the farming industry again, with the development of rail transport and machinery that would eventually replace horses.
This also meant that a number of crafts associated with the needs of horses declined to, so businesses that would have existed for many generations, such as saddlers, farriers and blacksmiths also faced very hard times.
Modern Farming Methods
The changes in today's farming methods are often related to regulations and restrictions as much as any technological advancement. Farmers are required to complete far more paperwork than ever before, with ever increasing EU rulings meaning that common sense is longer acceptable.
Intensive farming methods bare little resemblance to the high quality, lower yield farming of previous generations. At times when housewives did not expect to eat meat for every meal, or at least knew what to do with cheaper cuts of meat, offal and off cuts, there was not the insatiable demand for cheap food. Thankfully, there seems to be a return to a more considered approach to the food that we eat and perhaps the 'pile 'em high, sell it cheap' mentality will enable the rich heritage of British farming to return.
Infections and diseases in the farming community, such as foot and mouth and BSE, have meant that farmers are required to tag bullocks, are exposed to export bans and cannot move their livestock. While it is important that the safety of animals and consumers are strictly maintained, it can seem as though some of the practical methods and practices of farmers from many years ago have been lost in a sea of paperwork.
You might also like...