How to Cook the Perfect Steak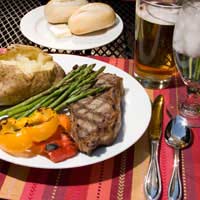 Ask people what their favourite meal is and steak and chips in some guise is likely to crop up again and again.
It is worth your while learning how to cook the perfect steak because it will stand you in good stead for your culinary repertoire - steak is great for dinner parties, romantic meals, quick suppers and celebratory meals.
There are a number of cuts of steak that, depending on your preference, can be cooked in a similar way. The tenderest cut and the most expensive, is fillet steak, with its butter soft texture and mild flavour and is a popular choice for more fancy occasions. Chefs will often say their favourite cut of steak is the rib eye, slightly less tender than the fillet, but with a richer flavour and line of fat perfect for rendering in a hot pan. The t-bone is the man's choice - although go to Florence in Italy where it is their speciality and you will see people of both genders and all ages digging into the biggest steaks you have ever seen!
Before we get to the actual cooking of the steak, let's look at the perfect accompaniments depending on what occasion you are cooking your steak for.
Dinner Parties
A neat fillet steak per person is great for a dinner party. Serve it in winter with sauté potatoes, French beans with plenty of garlic, butter and parsley and a sauce made with the pan juices, a slug of brandy or port, double cream and plenty of black pepper.
In summer, fillet steak with a well dressed salad and plenty of French bread is a light, sophisticated dinner.
Romantic Meals
You cannot go wrong with asparagus for a romantic dinner and it goes wonderfully with a good steak. Just steam it for a few minutes and serve a little hollandaise sauce alongside. Boulangere or Lyonnaise potatoes work well too.
Quick Suppers
A minute steak is great for a quick midweek supper, with perhaps some onion rings, grilled tomatoes and crusty bread. You can also make a terrific steak sandwich with frying steak - add mustard, rocket leaves and plenty of salt and pepper for the best ever TV dinner.
Celebratory Meals
Nothing says 'celebration' like a good steak - you can either plump for a whole fillet, seared and carved at the table or perhaps a beef Wellington, using the best pate and mushrooms you can find. Duchess potatoes look fancy and roasted vegetables or peas Provencal make a great addition.
So, how to cook the steak. It is a good idea to ask your guests how they like their steak cooked because it is a terrible shame to be served a lovely piece of steak that is over- or underdone to your taste.
To cook a perfect medium rare fillet steak, first get your heavy-based pan really hot. Gas is best for this in the kitchen, with a barbecue being even better for that lovely charred flavour. Lightly oil and season your steak, allowing it to get to room temperature. Don't let the salt rest on your steak for more than a few minutes before cooking, though, as it draws out the moisture in the meat, although this can give a very nice 'crust' to the outside. Once your pan is really hot, place your steak in the pan. After three minutes, turn the steak over. After another three minutes, take the steak out and let it rest on a warm plate. For a rare steak, reduce the timings by a minute each side and for medium and well done, add a minute or two each side respectively.
You might also like...
How is it possible to give a time for cooking when you have not stated how thick the steak is. Surely a 5 cm steak will take longer than a 4cm steak?
mak
- 27-Mar-15 @ 12:36 AM