Unusual Meats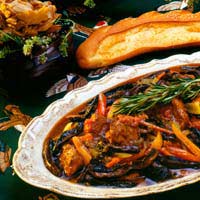 The most popular meats in the UK are beef, pork, lamb and poultry. Beef is the most popular, with a roast dinner on a Sunday being a key part of traditional family life.
The popularity of beef took a downturn between 1996 and 2000 when the BSE, or 'mad cow' crisis hit. Beef sales are now back to the healthy levels they were before 1996, at around 19kg per person in the UK, compared with 14.2 in 1996.
Chicken is by far the most popular poultry in the UK, with around £2.9 billion a year in retail sales, with over 80 % of retail sales from supermarkets. The UK is the second largest poultry producer in the EU after France. The popularity of turkey is steadily increasing with its low fat, high protein characteristics appealing to healthy eaters.
There are, however, a large number of less popular meats available increasingly easily and often with comparable, if not better, nutritional value.
Wild Boar
Wild boar is a very rich red meat. As it is lean, it works well to be cooked slowly with liquid or quickly with some additional fat. Good ways to cook wild boar to make the most of its full flavour include slow cooking and barbecuing.
The strong flavoured meat works well with other intense flavouring. A great marinade for wild boar includes oriental flavours, such as star anise, ginger, soy and rice wine. After marinating for at least a couple of hours and over night if possible, you can slow cook your meat in a lidded casserole dish - this is lovely served with steamed rice or plain noodles.
Rabbit
Rabbit used to be far more popular in the UK. Butchers are now starting to supply it again thanks to the increase in celebrity chefs looking to make their mark with unusual ingredients.
Rabbit is a low fat meat, with more protein than turkey - 20.8g per 100g compared with 20.1g. As a tender, juicy meat with a subtle flavour, it carries other ingredients well in the same was as chicken. Rabbit works well cooked quickly or slowly, with casserole cooking in liquid a particular favourite. Try browning the meat and adding it to cider, honey and thyme - perhaps with some double cream stirred through at the end of cooking. Delicious with mash potatoes and green vegetables, or be ironic by serving it with carrots.
Kangaroo
Kangaroo steaks are often compared to beef fillet steak, although less tender and more flavoursome. They can be cooked in the same way - pan fried or barbecued - and can be served rare. As a very lean meat, it works best to cook them in butter or olive oil. Complementary flavours include red wine and redcurrant jelly.
Kangaroo has great nutritional value as it is very low in fat and high in iron.
Crocodile
Crocodile meat is a white meat, with its flavour similar to pork with a slight fishy taste. Although this may not sound very appealing, the meat is a great source of protein and carries strong flavours well. Often served on skewers and barbecued, it can be served rare, unlike pork, and works well with dry rubs and spicy marinades.
The increasing popularity of such unusual meats has meant that more suppliers are focusing on or specialising in them - a number of on-line suppliers provide practical sized packs of a range of these meats to try, with vacuum packs allowing effective transportation.
You might also like...