Meat and Morals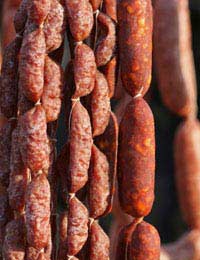 While no one else can make the decision for you, in order to decide if you are going to eat meat, what type of meat you are going to buy and where you buy it from, it is a good idea to understand the facts behind the meat industry.
By arming yourself with the information, you can make more of a value judgement on what you are happy to eat, rather than by simply trusting supermarkets, brand names and producers.
In recent years there has been a great deal more information available to us regarding our food and where it comes from. Perhaps in times when there were less multinationals, shareholders and unscrupulous producer's consumers would have been more able to buy with confidence, but today we need to take that responsibility on our own shoulders.
Regulations - Behind the Times but Catching Up
The food processing, live exports and intensive farming industries have moved quicker than the regulations that govern them, so many practices that may still be barely legal today could be out lawed within the next few years. Take live export, for example, where live animals are regularly transported from one country to another to be slaughtered and processed, only to be returned to the country of origin and labelled as such.
Food processing has come under scrutiny thanks to celebrity chefs and their recent campaigns. We are now far more aware of what ingredients are put into processed meat products that it is understandable that people would not wish to eat it.
Many people feel that not only do they not want to support the intensively reared meat industry by buying such products, but that they also do not want to eat such bad quality food.
The Infamous Turkey Twizzler
A particular product that gained a very negative press was the 'Turkey Twizzler' from Bernard Mathews, which had been a staple on school dinner menus until the Jamie Oliver 'School Dinners' television series. This product was found to contain only 34% turkey, with the rest made up of water, pork fat, rusk, eight different E numbers and other beauties including turkey skin and potassium chloride.
When we know information like this, it is irresponsible to continue to eat it - what type of nutritional value do these products offer us, especially as they have very high levels of salt and sugar.
Quality Products
The meat and morals debate is perhaps more about quality than morality - we can feel comfortable eating good quality meat that has come from an animal that was reared in a respectful, responsible manner. What we cannot do is eat the cheapest possible supermarket meat, consume vast amounts of fast food that has been produced in intensively reared operations or buy highly processed food that has been pumped full of chemicals, water and undesirable ingredients.
If you broke down the contents of most ready meals or processed foods, you would not want to eat the constituent parts, whereas if you have a piece of well-hung fillet steak bought from a good local butcher, you can enjoy your dinner with a clear conscience.
You might also like...