Is Foie Gras Cruel?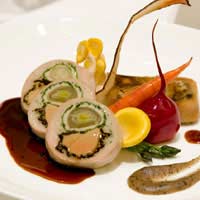 The popular French delicacy of fois gras is highly controversial. It is a rich pate made from geese livers that is often served lightly pan fried, with brioche or toast. Gordon Ramsay serves it in his Claridges restaurant and it is stocked in Harrods and Fortnum and Mason.
In France, it is especially popular over Christmas, in much the same way as smoked salmon is in the UK - many families treat themselves to a piece of foie gras and serve it as an aperitif. The classic dish of steak Rossini also includes a circle of fois gras on top of a piece of filet steak.
Much as foie gras is considered a delicacy, it is also considered cruel by many people - not only animal rights activists. The reason for this is production methods involved in making foie gras.
Production of Traditional Fois Gras
The world's largest producer of foie gras is France, with it being an artisan product. Many towns in France, especially in the Alsace and Perigord in the south west, have foie gras producers, who take a great pride in their work. The farmer's wives often have their own recipes and will sell their products direct to the public. These producers are convinced that foie gras is produced in an ethical, cruelty free manner - in the same way that they have done for many years.
The key element of the controversy is the method called 'la gavage' - this practice involved placing a metal tube down the neck of the geese and force feeding them grains. The large amounts of food fatten the gooses liver, which makes a very tender, subtly flavoured pate. It is a very pale brown in colour and can either be bought as a whole liver in specialist markets or in shops in long sausage shapes to be cut into discs for serving.
Foie gras producers say that 'la gavage' is not cruel because they are highly skilled in knowing how to hold the bird so that the tube does not hurt them. As artisans, they have perfected their techniques and are careful to give their birds a good life.
Those who consider this practice cruel say that the tubes cause pain and distress to the geese and that their livers are uncomfortably full. While many people in the UK do not agree with the production of foie gras, we are still a large consumer of it, buying over 4,200 tonnes each year.
Production of 'Ethical' Foie Gras
In order to satisfy the desire for foie gras without the associated possible cruelty, a Spanish company has developed an alternative product. Called 'Ganso Iberico', this type of foie gras does not involve 'la gavage', but rather utilises the natural feeding cycle of the geese. Here, the birds are tricked into being fattened up for their annual winter migration to Africa and then slaughtered. This means that the liver is still very large, but they have not been force fed to achieve it.
This product is gaining popularity, especially since it won the prestigious 'Coup de Coeur' award in Paris. This has also upset many French producers of foie gras as it has promoted the trade of 'Ganso Iberico' and reduced their global sales.
You might also like...