The Farmer's View on Meat Eating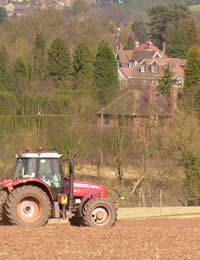 Farmers have faced a tough time over the past few years.
There have been a number of industry crises that have had a massive impact on the profitability and even viability of a large number of farms, so much so that every week for the last fifty years, around 350 people are no longer working in the industry. In 1999, around 65% of British farmers needed to borrow money in order to keep their businesses competitive, investing in new machinery and techniques.
Health and Safety Crises
BSE, or to give it it's full name, Bovine Spongiform Encephalopathy, was first defined and confirmed in the UK in 1986, reaching it's peak in 1992 when there were over 36,680 cases. This had a massive impact on the farming industry as not only was British Beef banned in many countries across the world, beef on the bone was banned in the UK and many consumers simply decided to stop eating beef, or meat in general.
BSE has now been in decline for many years and British beef is back on many global menus, however, the industry was hit by another crisis a few years later. In 1999, around 65% of British farmers needed to borrow money in order to keep their businesses competitive, investing in new machinery and techniques. However, by the time the foot and mouth crisis hit UK farms in 2001, the average net farm income dropped from £8,000 in 2000, to only £2,500 in 2001.
The Power of the Supermarkets
Another reason for the decline in the profits of farmers has been the huge increase of the power of supermarkets over the British high street. Many time poor people go to a large, possibly out of town supermarket for all their shopping nowadays, rather than choosing a fishmonger for their fish, a butcher for their meat and a grocer for fruit and vegetables. As a result, these shops too, are declining. Many coastal towns don't even have a fish monger anymore and we do not know our local butcher, even if there is a butcher.
Diversification
Smart farmers recognise that they need to diversify in order to stay in business - it is no longer good enough to just hope customers will stay loyal and provide them with a living - they have to offer something over and above what the supermarkets offer. Until very recently, cost was the key decider, with accessibility coming a close second, so massive supermarkets with economies of scale and heaps of free parking won pretty much every time. Now, many consumers are aware of how they can 'vote with their feet' - visiting you local butcher instead of the meat counter at the supermarket is a far more cerebral experience.
The diversification goes beyond the butchers shop - farmers know that they cannot compete directly with supermarkets, but they can carefully rebrand what they offer that the supermarkets cant - personal service, understanding ethical production, specialist knowledge of cuts and cooking, perhaps a family history in the trade.
Yes, many supermarket butchers can be well trained and knowledgeable, but they will not have been hands on in rearing the animals, their husband or wife won't be the person that answers the phone and their personal and professional reputation won't be on the line if they get something wrong. The rise in farmers markets, box schemes and farm shops show that savvy farmers can bring their skills away from a declining sector to a whole new breed of customer.
You might also like...