Common Misconceptions About Meat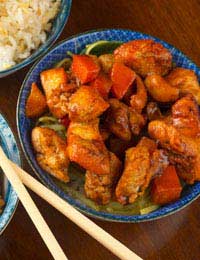 There are often things that we take for granted and just assume to be true because we've always done it that way, or just do not know any different. There are a whole host of myths in meat that are not true and they come in many guises - from the practical cookery tip handed down from generation to generation and in pretty much all cookery books, to the nutritional assumptions that are simply not accurate.
Let's have a look at a few of the common misconceptions about meat.
'Seal the Meat'
When you read a meat recipe in a book or magazine or follow a chef on a TV programme, they will always say something like, "First of all, seal the meat on all sides to keep in the juices." Although many roasts and meals are very happy to be cooked this way, the explanation behind it is not accurate - there is no need to 'keep in juices' as they don't go anywhere anyway, they will always stay in the meat, especially if you allow the meat to rest after cooking.
Experimental chefs such as Heston Blumenthal have been introducing new methods of cooking meat, such a beef joint cooked in a very low oven for at least seven hours. This does not suggest sealing the meat first and results in a wonderfully tender joint.
Organic Meat is More Expensive
This may be the case if you are comparing two packets of meat side by side in the supermarket, but that is not a true comparison. Firstly, some supermarkets have been accused of unnecessarily increasing the prices of their 'ethically farmed' and organic meats in order to cash in on the current popularity and increase in awareness of these issues. When these products are put beside a scarily cheap, two for five pounds, chicken, it is no wonder it looks expensive.
However, if you take the time to visit a local farm shop, or look on line for a box scheme that also delivers meat, you will surprised at how competitive the prices are. Don't forget, you are cutting out the middle man - no big supermarket profits or shareholders to keep happy - by buying from the source. This means that your new meat supplier will invariably be pleased to have a new customer, you will have a superior roast dinner on Sunday and you will be supporting your local economy.
Red Meat is High in Fat, White Meat is Low in Fat
If you chose your cuts carefully, there is no reason why this should be true. If you chose an entrecote steak and eat every piece - fat and all, it would be a high fat meal, and if you chose a plain grilled turkey breast with no skin, it would be a very healthy, low fat source of protein.
But of course there are all sorts of options in between that are good choices - a braised chuck steak casserole with the visible fat removed from the meat and the final dish carefully skimmed, a barbecued fillet steak. White meat can be very fatty - pork belly for example or fried chicken wings.
Whether or not your supper has a high or low fat content is more to do with the cut of meat, the method of cooking and the ingredients you add - butter, cream sauces and fried potatoes - rather than the meat itself.
You might also like...