How Good Quality Meat is Reared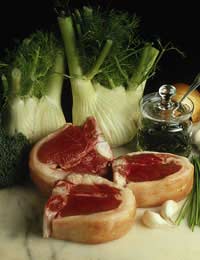 There is such a huge difference in the life an animal lives, depending on whether they are being reared intensively or with a little love.
Where Do You Buy Your Meat From?
The actual cost in terms of the consumers roast dinner is very small, if anything, but the main difference comes from the supermarket profits. This means that where you buy your meat from has a far greater impact on the quality of life the animal had had, rather than judging the quality on the cost.
For example, if a farmer sells his beef to a supermarket, he will get 9p for every £1 spent, so the supermarket keeps the remaining 91p. What type of impact do you think that has on the farmers situations, what they can invest in their business and the costs they need to cut in order to even stay in business, let alone turn a profit.
If a farmer decides to not sell to the supermarket and sets up their own farmers market stall, farm shop or box scheme, they are able to keep the whole pound. This makes an enormous difference to the livelihood of the farmer and the quality of life of the animal - yet the consumer is still spending the same pound. So really there is no excuse.
Until supermarkets are prepared to pay a fair price to their suppliers and producers, it makes far more sense for farmers to diversify or try to sell their products through other channels. Although this may initially be a more involved process, being held to ransom by the big supermarket chains is no fun either and is certainly not sustainable.
Responsible Rearing
The rearing practices for good quality meat is so very different to that of intensively reared meat that it is one of the biggest cover ups in retailing. It is a relief that more and more consumers are opening their eyes to their ability to make a difference, with well researched TV programmes and celebrity chefs pushing the issue across the media.
Good quality meat comes from animals that have enough space to roam, are not pumped full of antibiotics and are fed decent food. Meat such as Kobe beef, popular in Japan for many years, is now gaining popularity in the UK. Here, cattle are regularly massaged and can drink beer to keep them relaxed and produce a tender, well marbled meat.
Rare breeds and regular breeds being reared in a responsible manner are provided with good husbandry, careful attention to changes in behaviour and illness, with a ready source of suitable, natural food. There are no red dye additives to make the meat look more 'consumer friendly' because the meat comes from animals that are free to roam and forage.
Responsible Slaughter
The slaughter methods of good quality meat are also very different to intensively reared practices. Small farms do not want their animals to travels many miles to a centralised abattoir facility, they want a respectful process which does not stress the animal. Responsible slaughter is a quick, painless process involving stunning the animal so that it does not feel any pain. Well designed slaughter houses mean that animals are not lined up in full view of each other, which raises tension, but that they are in a sort of snake so they cannot see what is about to happen to them.
You might also like...