How to Persuade Chefs to Use Other Cuts of Beef?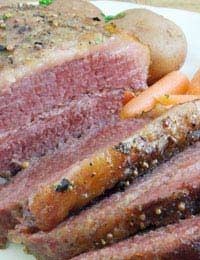 Q.
Most chefs in hotels and restaurants seem to use beef tenderloin and/or sirloin.
How can chefs be convinced to use other beef cuts ( e.g brisket,rib eye) for their outlets and banquet facilities? I am sure this could improve variety and profit margin. Do you have any information on chefs who do this already?
(M.C, 19 March 2009)

A.
It's true that until quite recently, chefs and catering outlets were often entirely focused on providing customers with 'named' cuts – in other words, you went into a restaurant and ordered a beef dish by the name of the cut: tenderloin with blue cheese sauce or 16 oz sirloin and salad, but increasingly chefs are recognising the value of other cuts of meat.
There are two reasons for this change of attitude: celebrity chefs endorsing different cuts of meat, and the rediscovery of traditional and regional cookery, especially related to food miles and livestock welfare.
Celebrity Chefs Endorse Cheaper Cuts of Meat
In 2008, the owner of the 'traditional' London restaurant Smiths of Smithfield launched his latest book – he's not a celebrity chef in the TV sense of the word, but he's a profoundly influential person in the world of haute cuisine in the UK – his name is John Torode, he was born in Australia, and his book is called John Torode's Beef. In it he gives recipes and advice for using every possible cut of beef. A more immediately recognisable celeb is Jamie Oliver who's most recent TV series, Jamie at Home extolled the old British recipe of boiled beef and carrots, using stewing beef which comes from the forequarter of the animal and is suitable for long slow cooking processes.
Regional Cookery Supports Variety in Meat Cuts
Regional recipes are becoming popular again, partly because they tend to use cheaper cuts of meat, and in a recession that is an increasingly popular way of staying within budget, but also because local food culture is burgeoning as people become aware of the distances that foodstuffs are transported. Because regional recipes usually call on ingredients that are grown in the locality, and work well together, they produce tasty and cost-effective meals that reflect the heritage of an area as well as often being cheaper to make and serve.
Given that the trend has already begun, consumers can do a lot too – they can ask for regional or traditional foods, or suggest to favourite restaurants that a dish they current make from a steak cut could easily be created using a different piece of beef: steak and ale pie is just as tender and flavoursome made with flank or shin beef, for example, and not only does it taste as good, it's a lot cheaper to produce!
You might also like...