Enjoying Local and Rare Breed Meats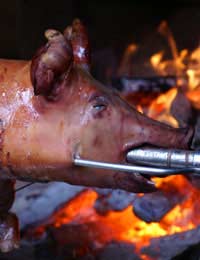 Local and rare breed meats have seen a surge in popularity in recent years.
The key reasons why we are now paying more attention to the particular breeds of meat that we eat and where they have come from are connected to our increased desire to maintain some control and responsibility over the conditions in which our food arrives at our dinner table.
Whilst there are still large amounts of 'buy one get one free' supermarket offers on intensively farmed meat and poultry, consumers are voting with their feet by turning away from using ignorance as an excuse for the terrible conditions these animals are kept in. The notion that cost is the only consideration for our shopping trolley purchases is no longer the case - we are all more aware of recycling, reduced packaging and food miles than ever before and our choices for the family dinner reflects our enhanced understanding of the story behind what we buy.
A major part of the progression of the sustainable, responsible food revolution is the increased awareness and accessibility of local and rare breed meats. The internet has played a large part in the accessibility issue, in that we can order an Essex rare breed joint from our laptop in Edinburgh. Not only that, but we can receive it the next day in perfect condition, thanks to vacuum packing and the postal service, all without leaving our front door - a truly sustainable way to go shopping! No parking, trolley stress or surly, badly trained supermarket staff to deal with.
Some popular and less well known examples of rare breed meats
Gloucestershire Old Spot
This pig breed is rapidly gaining popularity in the UK, especially with the fashion for hog roasts at celebrations and events. The pig is distinctive, with its white coat with a few black spots and heavy drooped ears. As the most expensive British pig, the Gloucestershire Old Spot is widely considered the most 'impressive' breed, so many supermarkets are stocking it, with traceability and locality a key selling point. The breed is kept throughout the UK and makes well flavoured pork and bacon.
Red Poll
The Red Poll is a breed of cattle indigenous to East Anglia. Known as a calm, easy to handle animal, it is gaining popularity for its rich, well marbled meat. Local chefs are raving about the rib eye steaks in particular, with their flavourful strip of fat and tender meat. Currently not generally available throughout the UK, its reputation is restricted to those in the know at present.
Essex Pig
This particular pig breed has gained fame from being featured in a BBC2 series called 'Jimmy's Farm'. The breed was actually classed as extinct in 1967, but a producer who was encouraged to amalgamate the breed with the Wessex Saddleback was committed to maintaining its purity. Now, the Essex Pig breed is loved for its well marbled fat and sweet flavour, making it perfect for bacon and roasting joints.
Jacob Sheep
This friendly breed is popular with farmers and farm shops that encourage visitors as the animals have a friendly, inquisitive nature which lends itself well to being near children. The Jacob Sheep can be seen throughout the UK, although the animals in the north and west have four horns while those in the central and southern parts of the UK have only two horns. The full flavoured meat is particularly popular at spring time.
You might also like...