Understanding the Food Chain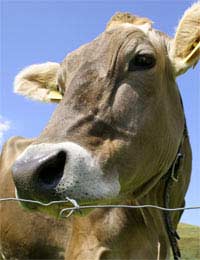 In order to value the meat that we eat, we need to appreciate where it comes from.
Chicken breasts do not grow on trees, or simply turn up on our supermarket shelves all pink and juicy and ready to cook.
Carrots are not uniformly cut into batons and served in a plastic bag with your Happy Meal, and nor is your beef burger cut from a happy cow that has been roaming freely.
Look Beyond The Supermarket
Of course, in the UK and worldwide, there are a number of rules and regulations surrounding the food chain and how companies, such as farmers, livestock transportation and slaughter houses, for example, have to go about their business.
But we owe it to ourselves to look beyond this. Rather than thinking that everyone in the business of the food chain has both the consumer and the animals best interest at heart, it's just possible that they may be trying to bend the rules as much as possible in order to maximise their profits.
This is not to say that people in such professions are not concerned with the welfare of the animals in their care, but rather that they may, possibly, have become desensitised to the business that they are in and be more focused on the bottom line.
Consumers Can Make A Difference
The real point of this article is to say that, as consumers, it is important to realise that we have the power to make a difference. No longer can we rely on the producers of the products we eat to ensure the best possible care of the products, whether that is the quality of life of the animals and fish, the chemicals sprayed onto our fruit and vegetables or the type of production standards in factories and warehouses.
Understanding the food chain is a great way to appreciate what we eat. It is also a good way to educate your children as to where food comes from and the role humans can play in eating responsibly.
As developing countries are changing their eating habits, the pressure on the world food chain increases. Many anthropologists are saying that, as demand for meat grows in traditionally predominantly vegetarian countries such as India, the required production of meat will be unsustainable. Each kilo of meat takes many times more kilos of grain to produce it, as the animal requires the grain, however, that grain is also edible by humans and so, in real terms, the production of meat is far more costly.
The Environmental Cost
Factor in the environmental cost of producing a kilo of meat and you have a very expensive product. People have become too used to eating cheap food and so responsibly produced meat, fish and vegetables seem terribly over prices. But by understanding the food chain and the real cost of getting our dinner to our table, we can appreciate that food has been under priced for many years.
The worldwide meat production has doubled five times over since the 1950s, with Americans eating over half of their daily calories from meat. With over 60 per cent of Americans classed as obese, not only are they eating more than their fair share of the world's resources, but they are eating more than they need anyway.
You might also like...